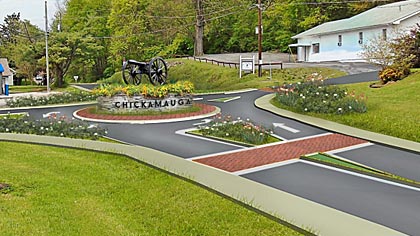 View All Chickamauga Listings
Amenities:

Public Parks

Historical Sites

Single Family Homes

Condominiums
BY THE NUMBERS:
WHO WE ARE
Median household income: $45,461
Population: 3,101 (2016 estimates)
Median age: 36
White: 94.4%
Black or African-American: 1.9%
Two or more races: 4.3%
* Does not equal 100% due to overlap.
Source: American FactFinder

WHERE WE LIVE
A recent search on the Greater Chattanooga Realtors' database showed 35 homes for sale in Chickamauga, with a median listing price of $159,900. On average, they had been on the market for 71 days. Of 46 homes sold in Chickamauga in the last four months, the median home price was $154,750 and, on average, those homes were on the market for 49 days.

While people come and go, there is not a lot of new development in town. Local real estate agent Bobby Teems says there has been no new construction available to the public since 2010, though a couple of people built custom homes for themselves.

'LIVE, WORK, PLAY'
Chickamauga was named one of 2017's nine "Live, Work, Play" cities statewide by Georgia Trend Magazine and the Georgia Municipal Association. The designation denotes cities that are attractive to both residents and tourists and that are working to further enhance their draw. Chickamauga was one of three in the small-city category. City Manager Michael Haney attributes the win to fundamentals like the city's lack of a property tax along with newer efforts related to the focus group-driven Downtown Renaissance Plan.
Source: NeighborhoodScout in Chickamauga